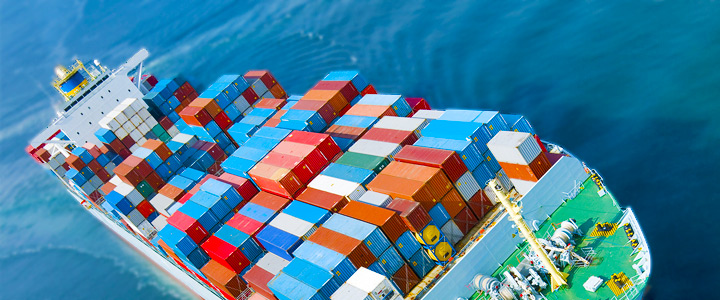 Freight forwarder is one of key roles while getting freights from one point to another. Including all: those who works for themselves and those who runs huge freight forwarding companies. They all have the same headache while dealing inquiries, rate requests and quotations – huge volume of documentation, e-mails and phone calls 24/7 makes it hard to concentrate and finish deals one by one. It just won't happen. Even if freight has already been delivered, freight forwarder still need to keep hands on invoices, payments and documentation, handle everything and only then get a cup of coffee.

Freight Forwarder: The Problem
Imagine you are a freight forwarder working in a mid company and dealing all processes with 10-15 shipments at the same time. You get new inquiry from customer, create new document or new excel sheet, put there inquiry details and then send rate requests to relevant carriers. Your e-mail box gets drowned in hour or so, that is not bad, as you get nice price quotes which will let you to be more flexible while sending the price to customer. But wait. Let's get back a little bit. You get all those rate requests as e-mails, then gather all rates and put them into the document one by one, just to have everything in one place. Then you find the best option, calculate, create new quote and send it to customer for review.
Then, when you nearly forget this case because there were 10 similar passed through upcoming days, you get an answer  from customer that quoted price is too big and that she wants a lower price or just say goodbye.  First you find this case in your excel file (forgot to mention that it weights more than a movie file), see what rate requests you got and try to lower the price from carriers. When you finally see that the price won't change, except when lowering your own fees, so you go for it and the deal is up and running. The best part begins. You start this by accepting carrier and letting him know the date of freight pick up and the conditions. You try to keep all shipment related documents in one folder, so that you could find the exact document. Folder starts filling with documents from carrier, customer and so on. Doesn't seem to be very handy. You need to update customer each day and tell her where is the freight, you need to control the carrier so phone and e-mail is a must and there is no "bad time" to receive a phone call from carrier, customs or customer. This is getting messy especially if we think about 10 similar deals at the same time.
The Solution: freight management software

Why not have one software for all inquiries, rate requests, quotations and shipments? This is already happening — while you are reading this.
Place for all your inquiries, rate requests, quotations, shipments and documents.
Easy to create shipping documents, inquiries, rate requests, quotations and shipments with prepared forms. For example this helps to form a new rate request and send it to numerous carriers in seconds.
See progress of shipment, add in transit visibility, add documents to the shipment and see all related information in one place.
Add personnel, carrier, customer and service to the software.
Grant permissions to contacts and let them access only what you want.
Add To-do's, payment notices.
Use live chat to discuss with contacts directly on the software.
Be transparent: see your colleagues shipments and be seen.
Set up the branding of your company on the software and create branded documents and forms.
You see shipment form below. This form is visible only to you and to your freight forwarder colleagues which you approve. You see everything in one place: customer details, freight details, in transit visibility and so on. There are also payments, invoices and other documents below. Moreover you can create new documents or reports or just add existing documents to the shipment.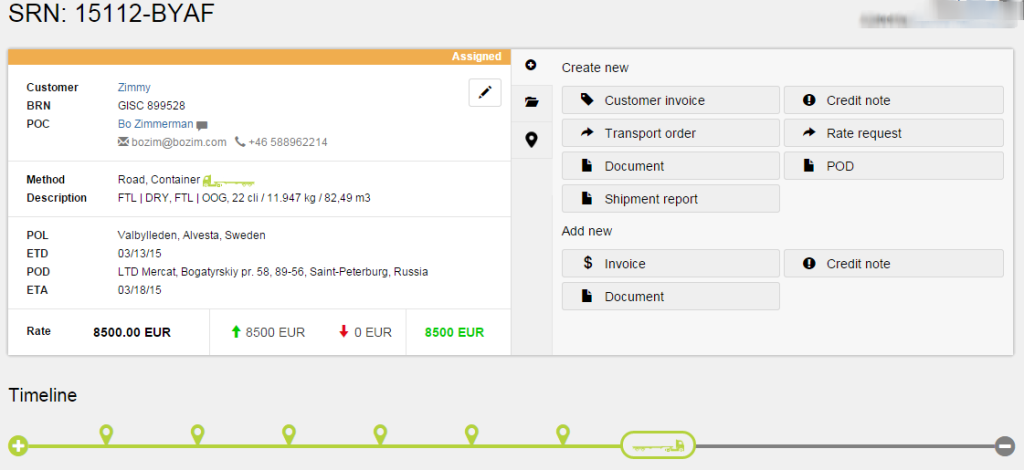 This is not everything TRANSCOUNT offers.  There are a lot more cool things to try on the software. All in all it just helps you to keep all the information in one place, find what you need faster, do the tasks faster and save your valuable time.
We are freight forwarders ourselves, so we know the headache and we use TRANSCOUNT successfully for few years now. We thought why not to share this great tool for all freight forwarders so at first we offered TRANSCOUNT to our friends and now we launch it publicly for every freight forwarder.
We will plan to have an app later as well as cool integrations with accounting software. We don't know any argument which would keep you from using TRANSCOUNT – it's just a cool tool for every freight forwarder which saves time and money.
If you have any questions or suggestions or want to try TRANSCOUNT for free, then just drop us a line!